On the evening of the second day in Malaysia we decided to stop by Pentai Chenang to get some culture appropriate clothing (our shorts and tank tops were attracting far too much male attention) and book our crossing to Thailand for the following day. The plan was to cross over to Koh Lipe by ferry and then onwards to the much quieter Koh Tarutau. One of the first stops was a travel agent of sorts (he also sold drinks and clothes like any self-respecting bazaar should:) The round, jolly-faced man manning the place asked where we hailed from (in less kingly English) and whether citizens of the republic of Malta needed a visa to enter Thailand "cause the travellers themselves usually know". During one of my more organised and prepared moments I had called the Thai consulate in Malta to check about my Thai visa situation (Gayle being a UK citizen means she does not need one) and was assured I could either apply for a 30 day visa at the consulate or get a 15 day one inn crossing a land border. What they neglected to mention however was the little detail that not all Thai ports are equipped to do this and that Koh Lipe was not kitted out with immigration facilities so travel there would only be possible with a visa in hand. Internet searches, phone calls to friends and questions did not fully clear our next course of action so we decided to pause that particular mission and go look for some supplies and other travel agents along the way.
The possibility of Thailand being off the cards began to sneakily make its way into our collective brains and the whole beach hut on a beach idea possibly flying out of the window. I must admit the idea ruffled me a little even though realistically there were 1001 places to go in the vicinity if Thailand did end up being impenetrable by little me.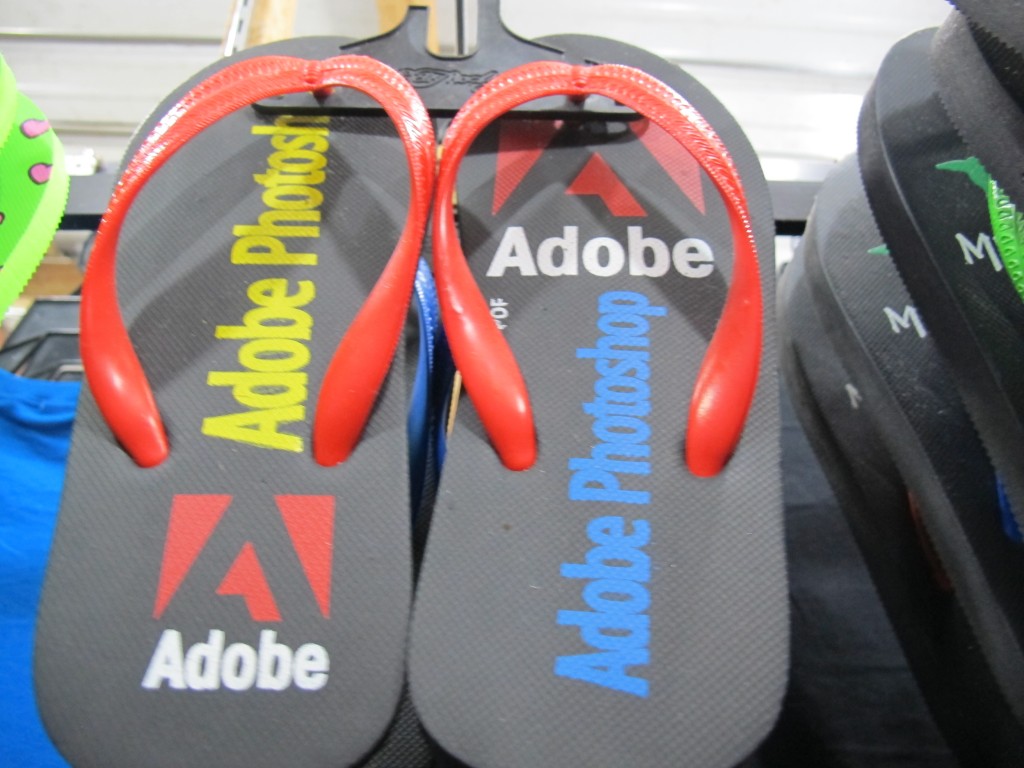 Pentai Chenang is a somewhat like Bugibba in Malta (touristy sea-side place with a million flashing LEDs and rows and rows of tourist-oriented bars, beach things and clothes. We ambled from shop to shop looking for flip flops and cover-ups while being highly amused at the dodgy branding attempts. Facebook, Yahoo and (drum roll) Adobe PhotoShop flip flops stood beside Red Bull and Monster t-shirts and Billabong shorts carrying a Helly Hanson logo print. There is definitely a deep love for brands only it's applied highly randomly and with no consideration of what the brand actually stands for. I really found this disassociation of brand name and product interesting as it seems that an aspect of branding supersedes the meaning usually behind the name and just keeps a recognisable logo probably with the expectation that buyers will enjoy sporting it just because it is well known.
We went round several touristy shops, tried some things on, walked around little market stalls and generally took it easy until about 11pm when we needed to get something out of our rental car. I dived into the massive tote bag I was carrying and felt around for a key. Nothing. Hardly a surprise when my bag had absolutely no small compartments and had 1,234 items all entangled together making retrieving anything next to impossible (much to Gayle's lack of amusement). I dived in again, this time taking out things and checking each item carefully for the missing key. Nothing. Having 'lost' my keys in my bag a million times (several times going back home to get them only to find them in my bag), I did not give up and found a table where I could lay all my things out flat and go through everything. Still nothing and the onset of panic begins.
The car key is missing.
We are in Chentai Penang at about midnight, miles from our accommodation, with no phone and no idea where our car key is. Thinking it might have fallen along the way, we asked the shops that were still open whether they found a car key but most had already closed and we had no luck with those which were. Little waves of panic mixed in with grumpiness took over Greta. I was craving our little room up near the beach away from the tourist hub we were in and was really worried that someone would steal our car.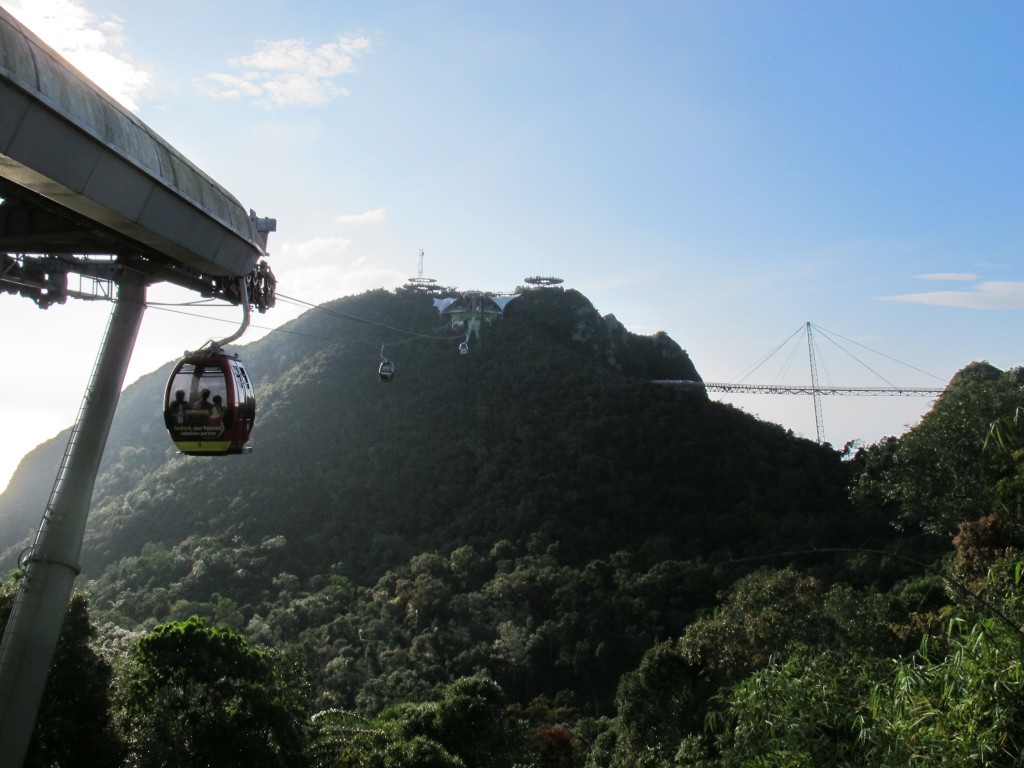 Being the intrepid traveller that she is, Gayle quickly flowed into a plan of action – find a room to spend the night in, ask around for key in the morning and head to airport to get a replacement key if we needed one. It would be an adventure, she said. I on the other hand could not stop thinking about the potential problems and was not a particularly happy puppy.
We looked around for rooms and went into a little road with a guest house sign. We got to a little booth with a sign saying Omar and a number, only Omar seemed to have called it a night already. Having no phone we asked two passers-by if we could use their phone to call Omar but Omar was full for the night.  One of the passers-by however said his brother had a budget motel round the corner and he could ask there about vacancies. Surely enough we followed him for about 100 m and got to a little door with a staircase. The motel was indeed a budget one – bunk beds with dodgy looking pillow cases, paper thin doors and shared toilets. It was however relatively clean, cheap and came with a friendly owner. We took it (with me resisting the urge to sleep on the roof of the car to baby sit it, cause I obviously look threatening enough to dissuade would-be car-jackers).
Staying there for only one night meant paying up front and we soon found out we did not have enough cash. We took the room key with us, asked for directions and headed out to the closest ATM. On the way we stopped at a mini market to buy water and soap, thanking the gods profusely for extra late opening hours. The guy at the shop was super nice and let us use his phone to call the car rental company. As we kind of expected no one picked up.
Realising we hadn't eaten we stopped at a place called Tomato, teeming with locals and promising several veggie friendly dishes. Score. On our way in I had a mini moment of elation when I thought the guy who had rented us the car was sitting on one of the tables there. Clearly a case of wishful thinking (the guy looked VERY puzzled at my burst of emotion when asking him whether he rented out cars at the airport).
One tosai (flat bread with curry dip) and a missing roti pesang (banana in pastry, very yummy but which sadly never turned up as they had run out of banana and we only got to know this ages later) later we were walking further up the road and got to the shopping centre housing no less than 5 ATMs. All out of order. Whilst there and in the presence of soap we decided to take advantage of the very clean and unusually luxurious bathrooms (marble fare with normal non squatting toilets, big automated basins, soap and hand dryers. We left feeling much cleaner and with renewed spirits.
At this point I could just about see the funny side of the situation what with my unexpected need for a Thailand visa, our missing car key, our rickety room and our highly random bathroom visit. It was actually hilarious.
We walked back to our room hoping that the owner would let us off with paying half the room rate since we could not find an ATM that worked (which he thankfully did). Sleeping in the room was amusing – we laid a sarong on the questionable sheets, kept our belongings close by and firmly locked the door. I am happy to report we made it safely to the next morning.
Morning brought light, a much welcome shower and furtive hopes on my part that the car would still be there. Trust, trust, trust, it will all be ok. Not easy in practice. Worry is funny really, it manages to rob you the enjoyment of the present by focusing on what possibly can go wrong in the future. Not very helpful unfortunately.
Gayle was as bright as a button and offered to go around the shops asking for the key while I went to the ATM to get our room fare (I was really happy I could avoid the whole drama about whether the car was still there). I waited in the queue for a bit and eventually saw an elated-looking bright neon t shirt in the distance. Gayle. WITH THE CAR KEY! I sincerely could not believe it! One of the shops had actually found the key, kept it, and apparently did not steal the car. Wow! At that moment I could really see how worry had robbed me from enjoying a completely amazing, unique experience and had me stuck in my head figuring out solutions to non-existing problems. How much better would it have been if I had managed to enjoy the new way things were suddenly unfolding and embrace the fluidity fully? Human beans sure like to complicate matters sometimes.