Arriving in Singapore early morning after a 12 hour flight from Amsterdam, we landed into Singapore Airport which conveniently has an MRT station on the bottom floor. Moving around with a big rucksack on your back and a small one on the front is an interesting experience at the best of times, let alone when trying to navigate Singaporean ticket machines, MRT stations and crowded trains with very disciplined occupants frowning at the disorder you bring to their world.
Tickets for the MRT come out of cash-only ticketing machines that dispense paper tickets which can be topped up and used up to 6 times. The problem is that topping up is done one journey at a time instead of just putting in a balance which is consumed as you go. The one-journey top up means that missing an exit check-out or going out at the wrong exit means getting caught mid-way with gates flashing big red card malfunction error signs and having to explain journey mishaps to semi English-speaking ticketing staff in the hope they will let you through.
Anyway, I digress. About 20 minutes on the MRT (during which everyone looked grumpy and very authoritarian regime-affected), took us into Bugis station with rucksacks in tow and out into the middle of a main road supposedly taking us straight to our hotel. Heavy rucksack, jet lag, lack of sleep and no vague idea which direction we were supposed to be going led to us flagging down a taxi and the taxi driver consulting his big fat Singapore version of the AtoZ to find our hotel. Turns out J8 is a new kid on the block, hence the delay in finding it.
J8 was new, very clean and tidy (if a bit clinical) and made us pay $10 for each hour of early check in. The prospect of a breakfast, shower and bed were far too good to refuse. The Superior Queen room (grade higher than the windowless standard double) sported a naturey wall paper which helped delay the onset of cabin fever and just about enough room to one side for our two mammoth rucksacks. The promised window was actually tiny but let in just enough natural light to feel alive.
We had read a little about outdoor New Year celebrations in the Marina Bay area so we headed out in the general direction after some more MRT adventuring, this time in the company of decidedly more cheerful Asian teens. At around 8 when we arrived, the bay area was busyish but not madly so and decked out with little stalls selling food, drink and many flashing head gear items which Singaporeans took to with vengeance. As we walked along the shore the crowd got decidedly thicker until we got to a place where everyone crowded with an air of expectation and we stopped and joined in the anticipation. Seemingly in reward of that, big water cannons shot jets of water in front of us making up a water screen for projected images and videos making up amazing visuals with the backdrop of lit up sky scrapers and the beautiful marina.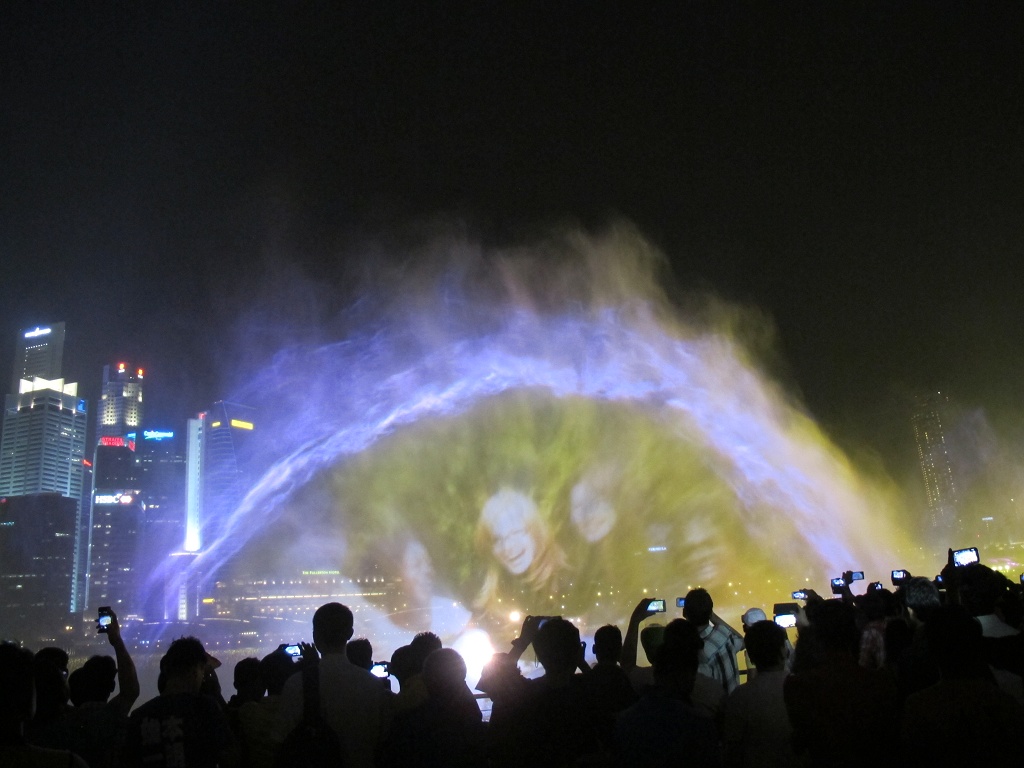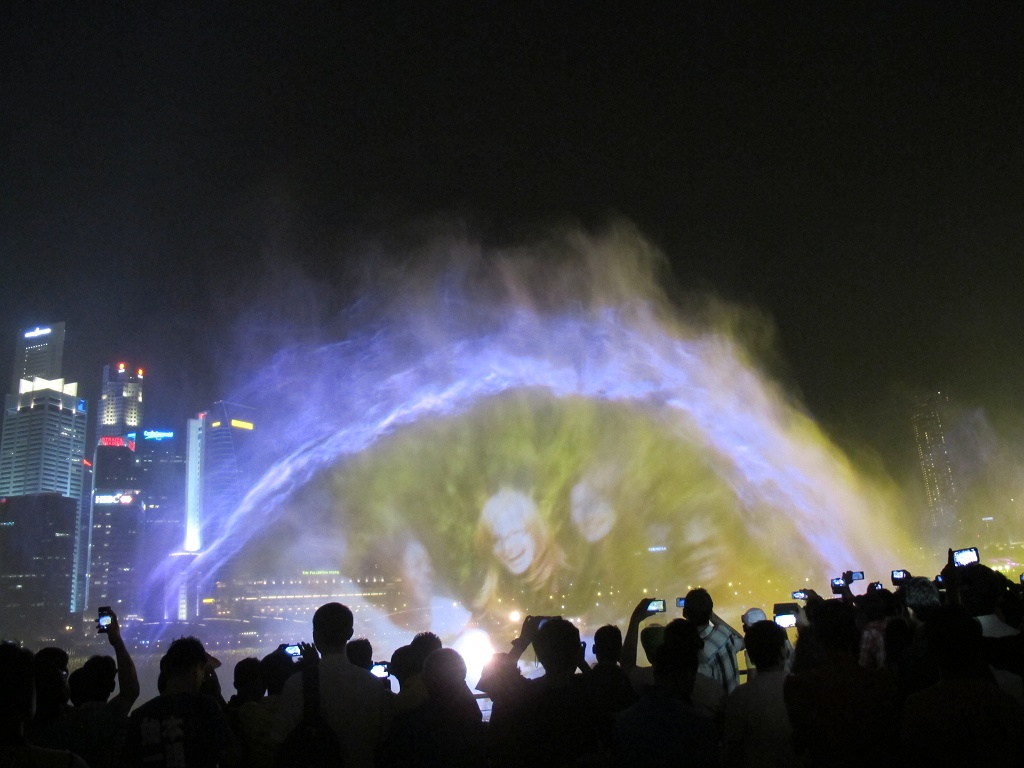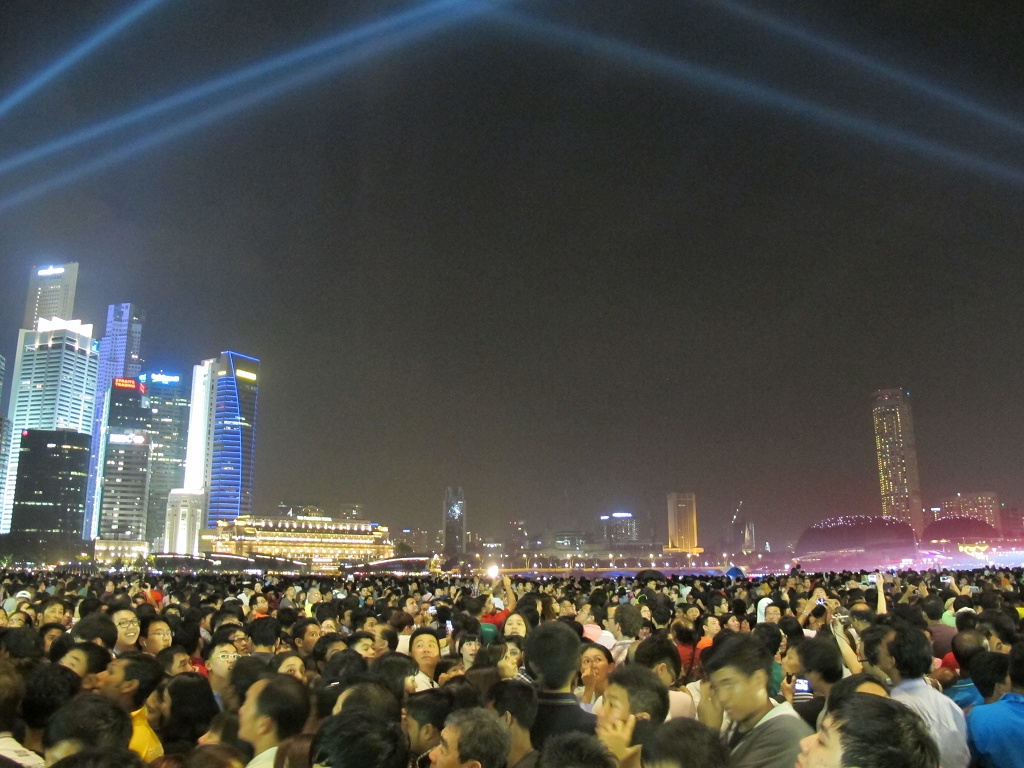 Feeling the call of hunger we began phase one of many Asian hope-it's-vegetarian-but-god-knows-what's-actually-in-it adventures. Phase one was actually kind to us as we managed to get salad, falafel and soup without meaty surprises. In the hour or so we waited for food the crowd around the marina had upped the ante to level Asian crazy with throngs of Indians, Indonesians, Japanese, Chinese and the odd non-Asian of every age, shape and size conceivable congregated around the firework watching vantage point.
Spectacular fireworks erupted at midnight, filling the sky with colour and light to much ooo and aaaaa from the crowd which was almost as entertaining as the fireworks themselves. Eight minutes later the end of the fireworks brought a frenzy to move out of the area and we somehow managed to stand still while a diverse multicultural crowd made up of three-generation families, android phone flashing teens (Apple has no chance at market domination here it seems), tiny toddlers in prams creating gaps in the crowd and wandering tourists swept by like a sea of monsters pushing past.
Once the crowds had cleared we enjoyed a walk /skip/jumpathon along the marina (much to the amusement of onlookers who seem to not be initiated into the joys of bouncy skipping to ring in the new year) which ended in a square-like bit with a German DJ and hundreds and hundreds of Asian men dancing in the most joyously crazy way ever. They danced in twos, created circles of fandom around ones, jumped, sang and seemed to be as fascinated by us (two European girls in a sea of Asian guys) just as much as we were with their antics. Much mutual photography took place.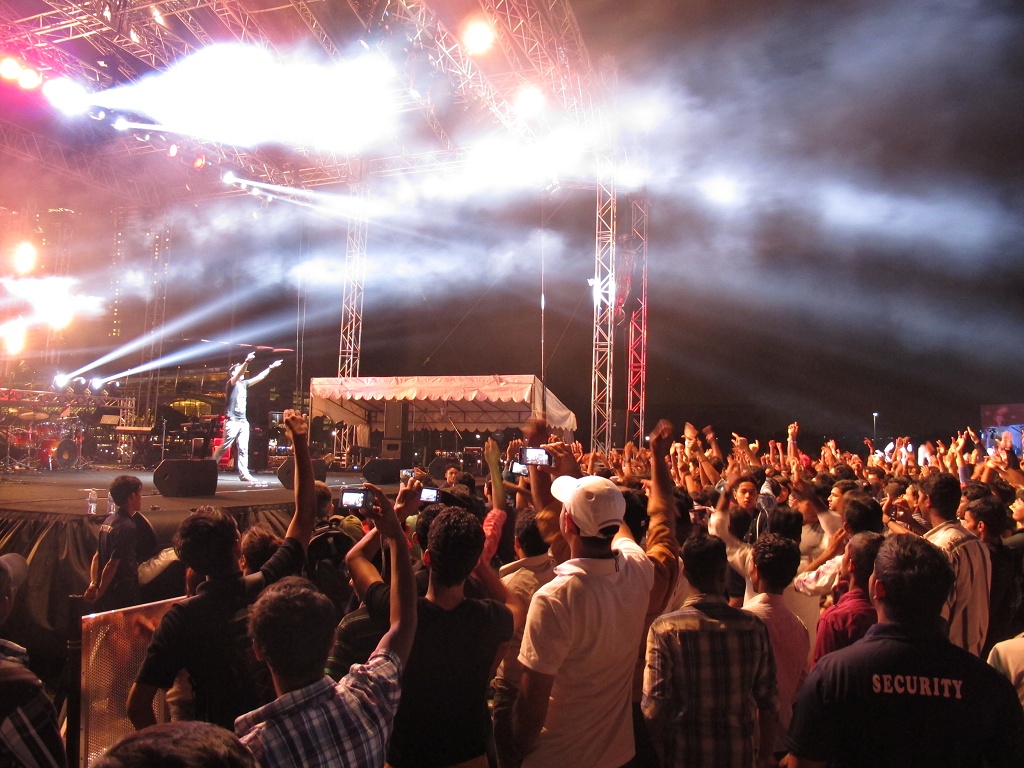 After a last song, cries of one more song and one more last song ended we swam out with the crowd and were handed a black box of surprises on our way out. The box randomly contained a mini hot dog and three creamy cakes which ended a crazily wonderful New Year's eve in a completely fitting manner.